Start Your Spring with Veggie Filled Recipes!
By: Geetanjali Kale, M.D
As I take care of patients with Diabetes, metabolic syndrome, elevated cholesterol and obesity, I always ask patients what they eat in each day. I get variety responses. I find our diets are heavily influenced by prepackaged ingredients, refined flour, readymade foods, take outs. Patients are trying to eat healthy, make better choices, but our fast pace of life, cost of food, convenience, time spent working, doing chores and other child care of other obligations makes it difficult to eat well.
I am a big advocate of plant-based diet. And that does not mean giving up meat or daily. It only means centering your diet around fruits and vegetables first and using other components as fillers. I always tell patients that we can save time by buying chopped vegetables or frozen fruits or vegetables, but eating well, does cause mess of fixing a meal and dishes!
I have an easy recipe of Vegetarian Paella I made this weekend: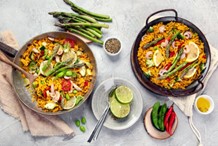 Ingredients:
-A small finely chopped white onion
-handful of coarsely chopped snow peas
-Julienned red bell pepper
-6 cloves of garlic
-fined chopped carrot
-half cup tomato sauce
-1 cup Spanish or arborio rice
-3 cups of vegetarian or chicken broth
-1 teaspoon paprika
-1 small can of pinto beans
-saffron 1 pinch
-1/4 cup olive oil
Directions:
In a large pan or paella pan, heat olive oil. Sauté onion, carrots, snow peas and bell peppers for 1 minute and then add garlic cloves and stir. Add 1 tea spoon paprika and tomato puree.
When puree thickens add 3 cups of vegetable or chicken broth and let it boil.
Add pinch of saffron
Add Spanish rice and pinto beans and mix well
The key to paella is after initial stirring, don't stir pan any more, only can shake and change pan on medium heat for 5/7 minutes till all broth evaporates, then raise temp to high heat for 1 minute and turn off heat completely.
Now cover the pan with tin foil to trap steam and cook remaining rice well.
And after 15 minutes of wait time, your delicious vegetarian Paella will be ready!
For more information on diabetes management, weight loss and nutrition, call 561-659-6336 ext 8012 to schedule an appointment with a certified diabetes care education specialists or registered dietitian today. Please enjoy our March 2023 Living Well with Diabetes Newsletter!
Oh Oh Oh Ozempic!
By: Barry Horowitz, M.D.
Ozempic! It seems like everyone is talking about it and many people are taking it. What is it? What should it be used for? Is it safe? Should you be taking it?
To answer these questions, we must first understand the Incretin System. Incretin hormones are hormones that are made in our intestines. They are released when we eat food and they play a large role in keeping blood sugars normal. They do this in a few ways. First, they send a message to the pancreas to make insulin when food is around. Secondly, they decrease the amount of sugar released from the liver. In addition, they slow the emptying of food out of the stomach so the carbohydrates to not hit the system as rapidly. Finally, they send a message to the appetite center in a brain to decrease appetite.
In diabetic patients, the incretin hormones are much less functional, which gives us a place to potentially treat patients. The 2 major incretin hormones are called GLP-1 and GIP. Studies have shown that when you give these hormones intravenously, blood sugars improve. Medications were then developed so they can be given to diabetics.
Ozempic is the brand name of semaglutide which is GLP-1 that has been modified so it can be given weekly by injection. It has been on the market for many years to treat diabetes and also has been shown to decrease cardiovascular events. Because people lose weight on Ozempic due to a decrease in appetite, semaglutide was studied for weight loss and is now approved under another name, Wegovy. Wegovy is the exact same medication as Ozempic (semaglutide) but is specifically indicated for weight loss, whereas Ozempic is indicated for diabetes. Whereas both of these medications are given weekly by injection, Rybelsus is an oral form of semaglutide approved for management of diabetes.
Because of the obesity epidemic, weight loss and "wellness" centers have sprung up. Some of them use the branded FDA approved medications mentioned above. Many have used Ozempic for weight loss, despite the fact that it is not approved for that indication, and this unfortunately has created a shortage in Ozempic for our diabetic patients.
Others have resorted to using compounded semaglutide. This is when a pharmacy makes the medication themselves, as opposed to obtaining it from the pharmaceutical company that manufactures it. The concern here, as with any compounded medication, is that it is not FDA approved or regulated and oftentimes other things are added to it, such as vitamins. Caveat Emptor (Buyer Beware)!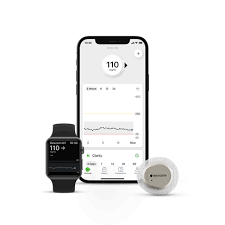 The physicians at Palm Beach Diabetes and Endocrine Specialists are skilled in managing diabetes and weight. We have extensive knowledge of and experience using all types of medications, including Ozempic and similar products. Please contact the office if you would like to discuss your individual situation further.
Dexcom G7
By: Monika Lambertson MS, RD, LD/N, CDCES
The new Dexcom G7 sensor was approved by the FDA in December and officially launched February 12th and was even promoted with a commercial during the Superbowl! It is cleared for use in adults and children ages two years and older and is also approved for use in pregnancy.
Continuous glucose monitoring technology works through inserting a tiny sensor under the skin which detects the glucose in the interstitial fluid (the fluid between cells). Sensor glucose is not the same as blood glucose but is closely related, lagging behind blood sugar by about five minutes. By providing you with readings every five minutes compared to a single reading from a blood sugar meter, you can see real-time, dynamic information about the speed and direction of glucose levels. Having this continuous feedback on how diet, medications and exercise affects glucose levels can help you make more informed treatment decisions. Additionally, reports generated from the Dexcom Clarity app can help you and your health care team identify and address patterns of blood sugar excursions.
Just like the previous G6 model, the G7 does not require fingersticks or scanning, lasts 10 days, and can be used with a compatible smartphone device or paired with the new and improved reader!
The new G7, as you might expect, boasts several improvements over the previous G6 model:
It's the most accurate Dexcom sensor yet!
60 percent smaller than the G6 model and about the size of two stacked quarters, making it less noticeable and less likely to get caught on clothing or knocked off
Approved for use on the upper arm, whereas the G6 was approved for use on the abdomen
Easy, all-in-one unit with built-in disposable transmitter designed for one-step insertion with less packaging and waste (no separate transmitter that can get lost or that needs to be replaced every three months)
30 minute warm up which starts immediately after insertion, which is the fastest warm up time of any sensor available (vs two hours for G6)
Sensor has a 12 hour "grace period" during which the sensor still works, allowing replacement of sensor at most convenient time
Flexible alert settings, giving options to schedule alerts based on day and time
As always, 24-hour customer support!
People who currently use the Omnipod 5 or the Tandem T Slim will continue to use the Dexcom G6 sensor with their pump system until notified by the manufacturer that their systems are able to integrate with the G7 sensor. This may take several months.
If you would like more information of the new Dexcom G7 sensor, speak with your health care provider or diabetes educator. You can also visit Dexcom.com or call Dexcom at 888-738-3646.
Announcing Brand New Insulin Pump & CGM Class Sessions this year!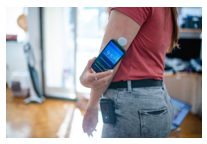 ​


​​
CGM Pump Class (Dexcom, Freestyle Libre)
Temple Israel 1901 N. Flagler Drive
West Palm Beach, FL 33401
Tuesday May 16th 10am-12pm
Advanced Pump Class
Temple Israel 1901 N. Flagler Drive
West Palm Beach, FL 33401
Tuesday April 11th 10am-12pm
Join our Healthy Meal Planning
& Weight Loss Class Sessions!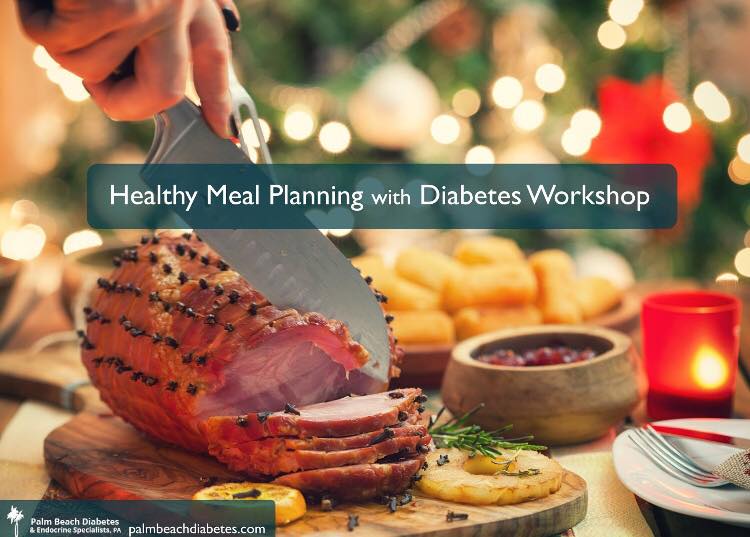 ​


​​


​


​​​
Join our classes to stay motivated,
& healthy!
West Palm Beach Location
Temple Israel 1901 N. Flagler Drive
West Palm Beach, FL 33401
Tuesday May 9th 10am-12pm
Wellington Location:
1041 State Rd 7, Suite 1 Wellington, FL 33414
Tuesday April 18th 5:30pm-7:30pm
Boynton Beach Location:
6056 Boynton Beach, Suite 245
Boynton Beach FL 33437
Tuesday April 18th 10am-12pm
If interested attending this program please contact our scheduling department at (561) 659-6336 Extension 8001 today!
At Healthy Living with Diabetes we want to ensure that you are satisfied with all services received. We also would like your input on educational workshops that you would like us to offer, information you would like to read about in Healthy Living with Diabetes Monthly or feedback on any workshop that you may have attended. You can contact the director of education personally by email jcook@PBDES.COM or leave a message at (561) 659-6336 ext. 8012. We would love to hear from you!


​


​​


​


​​​
Check us out on the web!
www.palmbeachdiabetes.com
www.facebook.com/pbdeseducation
www.twitter.com/WpbDiabetes