GET INVOLVED WITH YOUR DIABETES COMMUNITY!
By: Director of Education – Jessica Cook MS, RD, LD, CDE
Are you looking for more support to help you manage your diabetes? There are many resources in your community that can help you feel connected, supported and heard from other people with diabetes, family members of people with diabetes or professionals working with people with diabetes.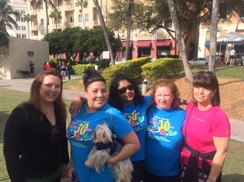 Palm Beach Diabetes and Endocrine Specialists offer quarterly diabetes support groups, group classes focused on healthy meal planning for diabetes and group classes that cover many topics related to diabetes. Our classes offer open group discussions about medications, depression, diabetes burn out, meal planning challenges dining out and more. Having opportunities to explore options for people with diabetes, other personal experiences and viewpoints of people with diabetes can not only offer support, but can lead to friendships, further education, and acceptance.
Also, one on one sessions with certified diabetes educators can provide individual support to help not only manage diabetes, but strategies to help you manage medications, symptoms, food intake, exercise, motivation, and goal setting. Looking into local volunteer groups, clubs and congregations can also present ways to help you feel supported or connected to your community when struggling with diabetes.
If you are interested in any upcoming events please call (561) 513-5100!
---
A NEW LOOK AT MEDICATIONS FOR WEIGHT LOSS
By: Barry Horowitz, M.D.
Maintaining a healthy weight is key in managing diabetes. When we look at weight, we look at the Body Mass Index or BMI, which is a calculation of your weight based on your height. A desirable BMI is between 20 and 25. You are considered overweight if your BMI is over 27 and obese if it is over 30. Right now 50% of Americans are either overweight or obese!
Obviously, the cornerstone of managing your weight is a healthy lifestyle with a prudent diet and exercise regime. This is a key component of our education program, Healthy Living with Diabetes. Over the past few years, 4 new medications were approved for weight management, and they all work by reducing appetite. They are indicated if your BMI is over 30 or if it is over 27 and you have other risk factors (i.e. diabetes, high blood pressure, high cholesterol, etc.)
One of the new medications is Qsymia, which is a combination of phentermine (from the days of phen-fen) and topiramate (a medication for migraines that also has appetite suppressing properties). It is a low-dose, long-acting combination pill that is taken daily in the morning. The next medication is Belviq, which is taken twice a day and works to change the neurochemistry in your brain to reduce hunger. Another medication is Contrave, which is a combination of 2 other medications which work on the appetite centers in the brain and is taken twice daily. The last medication is Saxenda. This is an injection that is taken once a day. It is actually the same medication as one of our medications for diabetes called Victoza, but given at a higher dose. Victoza is indicated for diabetes and people lose weight on it, but Saxenda is only indicated for weight reduction.
All of these medications are approved by the FDA for weight reduction. They have all been shown in clinical trials to lead to significant weight loss compared to placebo and some of them have also been shown to reduce blood pressure, cholesterol and blood sugars. In fact, many patients who lose weight with these medications are able to reduce or eliminate the medications that they are taking for these conditions. Of course, these medications will not be very effective unless you work to change your lifestyle with an improved diet and better exercise habits.
Your physician can help decide if taking medication for weight loss is appropriate for you, and if so, which one might be best. Each of them have specific side effects and contraindications, so you must be followed regularly while you are on them. However, if prescribed appropriately, they can assist in your ability to lose weight and maintain weight loss and lead to overall better health.
---
WHEN CARBOHYDRATES ARE A LIFE SAVOR!
By: Rosemarie Steinsapir MS, RD, CDE
What do foods such as ½ cup milk, ¼ cup of juice, ½ can regular soda, 3-4 small hard candies, or a small box of raisins have in common? They are fast acting carbohydrate foods that share in the treatment of this diabetic complication… (We're playing Jeopardy here!) And, the answer is:
What is Hypoglycemia?
Hypo means low, "gly" means glycogen or sugar, and emia means it is happening in the bloodstream. So, "low sugar in the blood" is hypoglycemia. In a person without diabetes, when blood sugar falls very low, insulin production decreases and hormones increase to supply sugar from the liver. But in the diabetic person, insulin that is injected is already in the bloodstream and cannot be stopped. And further, the release of glucagon is not increased. Therefore, the stage is set for diving blood sugar levels to continue. Technically, blood sugar has to be below 70mg/dL to qualify as hypoglycemia. The symptoms associated with it can vary from person to person.
The symptoms listed below have been felt and recognized as the most likely signs of a hypoglycemic episode:
Weakness
Shakiness
Dizziness
Nausea
Sweating/Shaking
Confusion
Let's add one more that makes things really clear. When you have the thought: "I need to eat something and I need it right now". Your brain is giving you a lifeline just before you pass out. Better to heed that message.
We are currently teaching that 15 grams of carbohydrate will resolve hypoglycemia. It takes food (at the first bite) about 15 minutes to reach the cells, so hypoglycemia is expected not to resolve before 15 minutes have passed.
The best form of carbohydrate is: the one you have immediate access to. So to the above fast-acting carbohydrate list above, let's add glucose tablets that you find in your local pharmacy. Three or four glucose tablets will work to resolve hypoglycemia. Each tablet is 5gm of glucose. The gel is also available and may actually work better for you. This form of glucose can go with you in a pocket or handbag. It's better not to rely on other people to supply you with sugar. It's always better to carry your own. Of course, asking for help is certainly better than sliding to the floor.
Hypoglycemia Unawareness is the name given to a syndrome of diabetes in patients who have had the disease many years, with many episodes of hypoglycemia, and who fail to recognize any warning signs or symptoms. Their sugars go very low and they function literally until they drop. These patients need to monitor blood glucose levels very frequently and sometimes need family members to pick up on symptoms such as confusion, failure to respond to direct questions, looking confused, staring, or failure to engage in what is happening around them. The really interesting part ofhypoglycemia Unawareness is the less a patient has hypoglycemic episodes, the more awareness returns.
When hypoglycemia has been around a long time for a patient, the physician should offer a prescription for glucagon. Glucagon is a hormone that causes the liver to release emergency glycogen (sugar.) It is an injectable that can go just beneath the skin and through clothing. Like the need for carbohydrate though, it's only as good as it is available.
The need-to-know information about hypoglycemia s as follows:
Know what foods contain carbohydrates and know what portions sizes equal 15 grams. (You can also make your own list.)
Carry your emergency carbohydrates with you (glucose tablets.)
If possible, check your blood sugar first. Differing problems such as high blood glucose or low blood pressure can have the same symptoms.
Ask your physician for the prescription for glucagon and learn how to use it, show a family member or friend how to use it and where you keep it. A rule of thumb is: 2 tries with food and if sugar is still low, inject glucagon.
Eating on time helps to avoid some of these episodes.
At Healthy Living with Diabetes, we want to ensure that you are satisfied with all services received. We also would like your input on educational workshops that you would like us to offer, the information you would like to read about in Healthy Living with Diabetes Monthly or feedback on any workshop that you may have attended. You can contact the director of education personally by email jcook@PBDES.COM or leave a message at (561) 513-5100. We would love to hear from you!