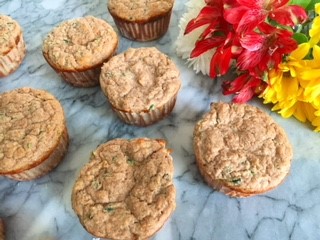 Happy Monday! Have you set goals for this week? Maybe eating more veggies? Try our low carb zucchini muffins to even add more veggies at breakfast!
Zucchini Protein Muffins
2 small shredded zucchini (squeeze the water out too!)
2 scoop vanilla protein powder
6 egg whites
1/2 cup unsweetened applesauce
1/2 cup almond flour
1/2 cup coconut flour
1 tsp vanilla extract
2 tsp cinnamon
1 tsp pumpkin pie spice
1 tsp baking powder
1 tsp baking soda
1/2 cup unsweetened almond milk
Shred and squeeze zucchini and add all ingredients to be bowl then mix well. Place in well greased and lined baking cups. Bake muffins at 350 degrees Fahrenheit for 20min.
Muffins are 10g carbohydrate so can be enjoyed as a breakfast or even afternoon snack! Enjoy!