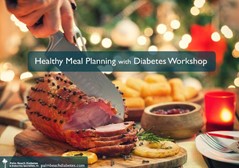 Managing diabetes can be a stressful task, but when you add traveling, holidays meals, extra desserts plus a change in time and weather it can be quite challenging! Luckily here at Palm Beach Diabetes and Endocrine Specialists we have a whole team of certified diabetes care education specialists and registered dietitians to help give you tips & tricks to keep you on track!
Not only are we offering healthy meal planning classes to help you slim down after the holidays and teach you blood sugar lower tips after meals. These tips below can help add more motivation and guidance during this festive season!
Tips to Stay on Track this Holiday Season:
Add a source of lean protein to each meal. Lean protein sources include eggs, fish, chicken, turkey, beans, tofu, lentils, Greek yogurt, pork loin or chops or low fat Cottage cheese. Protein helps you to feel full, slows down blood sugars spikes and reduces sugar cravings. Easy ways to add protein into your meals can look like adding boiled or scrambled eggs to your breakfast, adding tuna fish or grilled chicken to your salad at lunch, having grilled fish for dinner and having Greek yogurt as an afternoon snack.
Move your body! Exercise is a great way to keep blood sugars down even when enjoying holiday foods. Moving your body can increase insulin sensitivity to 24-48hrs afterwards, so the American Diabetes Association recommends exercising every other day for maximum blood sugar benefits. If walking is not your thing try a stationary bike, chair exercise, resistance bands, stretching or yoga. Any way you like to move your body counts!
Add some fiber to your plate! Fiber helps increase satiety, lowers cholesterol, aids in weight loss and slows down blood sugar spikes. To add fiber into your meals try adding more salads, vegetable soup or roasted veggies with meals. Try adding nuts or seeds with your oatmeal or yogurt parfait, add beans or lentils to soups or stews and when consuming grains try to look for varieties that have 5g or more of dietary fiber such as quinoa, faro, barley or buckwheat.
Avoid skipping meals. When traveling and planning on dining out ditch the mentality that you need to save up all your food for one meal. This can lead to overeating, high blood sugars and heartburn. Instead have protein & fiber rich meals throughout the day before the main holiday meal. This will help maintain better balanced blood sugars and limit that holiday weight gain!
Don't forget to stay hydrated! Studies have shown consuming 16oz of water prior to eating helps people to eat less, feel full and lose weight as well. Hydration is also needed to help improve insulin sensitivity, so water becomes especially important during times of hyperglycemia or carb rich meals. Limit holiday drinks that may have sugar such as punch, juice, eggnog, sweet wine, mixed cocktails with juice or creamy drinks like baileys.
Want more healthy meal ideas? Come join our Healthy Meal Planning for Diabetes Classes and learn how to balance meals, buy better groceries, healthy snack options, weight loss strategies and so much more!
To learn more about our ADA recognized Diabetes Education Program, diet & health call 561-659-6336 ext 8012 to schedule an appointment with a certified diabetes educator or registered dietitian today. Please enjoy our December 2021 Living Well with Diabetes Newsletter!
Diabetes Retinopathy
By: Rajat Bhalla M.D.
What is diabetic retinopathy? Diabetic retinopathy damages the blood vessels in the retina, the part of the eye that receives visual images and sends these images to the brain. It can lead to vision loss and even blindness. It is most common in people with diabetes who do not control their blood sugar well.
What are the symptoms of diabetic retinopathy? Most people with diabetic retinopathy have no symptoms during the early stages of the disease. This is when treatment works best. Therefore, it is important to get screened for the condition early. That way, doctors can take steps to protect your eyes before your vision is damaged. When symptoms start, they can include:
●Blurry vision
●Dark or floating spots
●Trouble seeing things that are at the center of your focus when reading or driving
●Trouble telling colors apart
Is there a test for diabetic retinopathy? Yes. To check for diabetic retinopathy, you can get 1 of 2 main tests:
●Dilated eye exam – During this exam, the eye doctor gives you eye drops to make your pupils open up. The drops make it easier for the doctor to see the different parts of the inside of your eye. Then the eye doctor looks at the back of your eye, called the retina. That's the part of the eye that is damaged by diabetic retinopathy.
●Digital retinal imaging – For this test, a technician takes pictures of the eye with a special camera. Then they send the pictures to an eye doctor, who checks for disease. It is okay to use this test if your past eye tests have all been normal. Otherwise, you should have a dilated eye exam.
If either the dilated eye exam or the digital retinal imaging test shows a problem, the eye doctor might suggest other tests as well.
People with diabetes should have their eyes checked regularly, with frequency depending on if there is retinopathy or not, and if so, its severity. For people with type 1 diabetes, eye exams should start 3 to 5 years after diagnosis. For people with type 2 diabetes, eye exams should start right after diagnosis.
If you notice any vision loss or dark spots in your vision, see an eye doctor as soon as possible.
How is diabetic retinopathy treated? Keeping your blood sugar and blood pressure levels in the goal range can prevent the condition from getting worse.
Other treatments for diabetic retinopathy, by the ophthalmologist, can include: photocoagulation, injections, and surgery.
Can diabetic retinopathy be prevented? Yes. If you have diabetes, you can reduce your chances of getting diabetic retinopathy by keeping your blood sugar and blood pressure levels as close to your goal as possible. It is also important to keep cholesterol levels in the normal range.
New Year's Resolutions the SMART Way!
By: Monika Lambertson MS, RD, LD/N, CDCES
As December is already upon us, now is a great time to begin thinking about making one or more New Year's Resolutions. Resolutions that focus on weight loss, exercise, nutrition and overall healthy are some of the most common. Although behavior changes are difficult, the very act of making a resolution improves your odds of success greatly.
While it may be easy to commit to a resolution for the first few weeks of the new year, sustaining a goal is the real challenge. Therefore, it is important to have a comprehensive "plan of attack" before setting out to change your behavior, simply saying "I want to lose weight" or "I would like to have better blood sugar control" is too vague and likely will not help you reach your goal. By Contrast, setting a SMART goal provides a framework to break down your resolution into a series of smaller, short -term goals that are more readily attainable.
SMART goals are Specific, Measurable, Actionable, Realistic and Timely.
SPECIFIC – What do you want to accomplish?
For example, "I want to lower my A1c to 6.5%"
MEASURABLE – How will you measure your progress?
"I will test my blood sugar before and 2 hours after one meal a day and record in my logbook. I will review my logbook weekly to see if I am meeting my blood sugar target"
"I will have my A1c checked every 3 months"
ACTIONABLE – Does my goal involve concrete action steps?
"I will keep my diabetes medications in a daily pill reminder box, so I won't miss any doses."
REALISTIC – Is this a reasonable goal to attain?
"I will make sure I don't run out of test strips."
"I will keep my blood sugar meter in my purse at all times, so I have it when dining out."
TIMELY – What is the target date for meeting the goal?
"I will lower my A1c by 1% every 3 months"
"I will reach my A1c goal of 6.5% in 9 months"
Be sure to your SMART goal(s) in writing. You may also want to share your goal(s) with a partner, family members or friends, so they can support you along the way.
If you would like help setting a SMART goal for the New Year, call to schedule a session with one of our Certified Diabetes Care Education Specialists. We will help provide the support you need to reach your healthy and wellness goals for 2022!
Join our Healthy Meal Planning
& Weight Loss Class Sessions!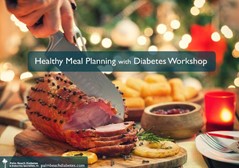 Join our classes to stay motivated,
& stay healthy!
West Palm Beach Location
Temple Israel 1901 N. Flagler Drive
West Palm Beach, FL 33401
Tuesday January 11th 10am-12pm
Jupiter Location:
550 Heritage Drive, suite 150 Jupiter FL, 22458
Wednesday January 12th 5:30pm-7:30pm
Boynton Beach Location:
6056 Boynton Beach, Suite 245
Boynton Beach FL 33437
Thursday January 20th 10am-12pm
If interested attending this program please contact our scheduling department at (561) 659-6336 Extension 8001 today!
At Healthy Living with Diabetes we want to ensure that you are satisfied with all services received. We also would like your input on educational workshops that you would like us to offer, information you would like to read about in Healthy Living with Diabetes Monthly or feedback on any workshop that you may have attended. You can contact the director of education personally by email jcook@PBDES.COM or leave a message at (561) 659-6336 ext. 8012. We would love to hear from you!