Happy New Year!
We hope everyone had a fun holiday season! We are hoping 2018 is a great year for you and we are here to help you reach your health goals. If your New Year's resolution involved healthier eating we got you covered!
Eating healthy doesn't mean you can't have the flavors you enjoy! Here is a super easy, low carb recipe including tons of flavor!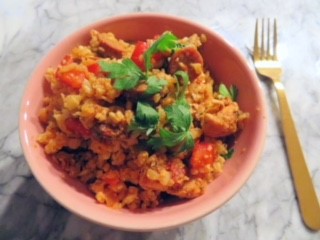 Cauliflower Jambalaya
Ingredients:
- 1 diced yellow onion
- 1 diced green pepper
-1 diced red pepper
- 5 celery stalks diced
- 1 can low sodium fire roasted tomatoes
- 2 garlic cloves minced
- 2 bags riced cauliflower
- 1 tsp cumin
- 1 tsp cayenne pepper
- 1 tsp chili pepper
- 1 tsp paprika
- salt and pepper
- 4 chicken breast cut into chunks
- 6 chicken sausage links sliced
- scallions
- fresh chopped flat parsley
Directions:
1. Cook chicken with spices in a skillet over medium heat until cooked through and remove from the pan.
2. Add Sliced chicken sausages and sauté until slightly crispy and browned. Remove from skillet.
3. Add veggies to the pan and Sauté onions, celery, peppers, garlic in avocado oil until tender.
4. Add cauliflower rice and canned tomatoes plus additional spices then sauté until tender.
5. Add chicken and sausage back into vegetables. Mix together and top with scallions and parsley!
Enjoy!