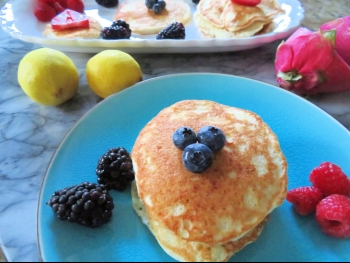 Having a healthy, low carbohydrate breakfast such as eggs, veggies and fruit can be repetitive. Why not try switching it up with yummy, fluffy low carb pancakes!
Super Fluffy Paleo Pancakes
- 4 egg whites
- 2 eggs
- 1.5 scoops vanilla protein powder
- zest and juice of 1 lemon
- 1/2 cup coconut flour
- 1 tsp vanilla extract
- 1/3 cup unsweetened cashew milk
- 1/4 coconut oil
- 1/2 tsp. sea salt
Directions: Beat egg whites until stiff peaks are formed. In a separate bowl mix dry ingredients. Add in beaten eggs, melted coconut oil, cashew milk and extract. Stir until combined. Then gently fold in Fluffy egg whites. Grease pan with coconut oil and cook 5-7 min per side. Serve with whatever fun toppings you want! Enjoy!