Happy 2018! Something about the new year really inspires people to turn a new leaf, improve their life and change old bad habits. Many people turn to New Year's Resolutions as their defining moment of change and while that can be quite inspiring, it also may not be realistic, leaving many people falling short on their goals. It is incredibly hard when you are changing habits, especially diet and exercise related. After all this might be a 30, 40 or 50 year old habit, but taking small steps is really the key to achieving success!
Here are a few tips to achieve your New Year's Resolutions:
Be Realistic! If you have not worked out in the past year, don't start the new-year with the ambitious goal of working out 7 days per week. Realistically think about your schedule. When are you going to work out? What time? For how long? What will you do when working out? Come up with a realistic plan that is achievable for your schedule, level of fitness and time.
Make it specific. Everyone wants to lose weight, but actually think about how you are going to lose weight! Are you going to start counting calories? Are you going to increase vegetable while reducing carbohydrate intake? Will you commit to going to the gym 4x/ week? Actually set specific goals you can follow.
Think of your health first. Losing weight is a goal for many, but how will that affect your medication use and blood sugars? Losing weight too quickly can also result in muscle and hair loss. Get to your goals using a healthy approach that is maintainable. Too many people follow strict diets lose weight quickly, but then cannot maintain their progress. If you need help putting together a personalized meal plan that will consider your medications and blood sugars then consult with one of our registered dietitians. Most insurance plans will cover nutrition consults every 6 months.
To learn more about diabetes, health and weight loss call 561-659-6336 ext 8012 to schedule an appointment with a certified diabetes educator today. Please enjoy our Winter 2018 Living Well with Diabetes Newsletter.
Introducing the FreeStyle Libre Flash System
By: Ines Cobo, RN, CDE
The FreeStyle Libre Flash Glucose Monitoring System is a continuous glucose monitoring (CGM) device indicated for detecting trends in blood glucose and tracking patterns aiding in the detection of episodes of hyperglycemia and hypoglycemia, facilitating both acute and long-term therapy adjustments in people with Diabetes. The system is intended for single patient use 18 or older, requires a prescription, and will be available in participating retail pharmacies.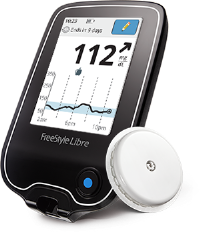 The systems comes with a reader that shows sensor readings and trend arrows every 15 minutes after scanning, the reader scans through clothing. The reader can capture data from the sensor when it is within 1cm to 4cm from the sensor.
While wearing the sensor the patient will continue to monitor blood sugars as recommended by the healthcare professional, maintain a daily log of glucose readings, meals, exercise and diabetes medications or insulin.
The system does not require fingerstick glucose testing for calibration, sensor warm up is 12 hours, up to 10 day sensor wear, sensor is water resistant in up to 3 feet of water for up to 30 minutes.
For MRI, CT Scan, X-ray, or a diathermy treatment, sensor must be removed.
Not approved in pregnancy.
Insulin Resistance Syndrome "IRS"
By: Dr. Shital Patel
I have picked this topic since it is on everyone's mind, but in endocrinology IRS stands for Insulin Resistance Syndrome also called Metabolic Syndrome. The definition of metabolic syndrome is patients with combined insulin resistance (diabetes mellitus, pre-diabetes, etc.) dyslipidemia and hypertension (HTN.)
Why do we care about this syndrome? Over a long period of time patients with metabolic syndrome are at risk of developing heart disease (Heart attack or stroke) in addition to many other circulatory disorders.
I cannot stress the importance of treating ALL 3 risk factors:
All people with diabetes should aim for an A1c (3 month average blood sugar) at 6.5%-7.0%.
Control blood pressure and cholesterol levels.
Diet, exercise and lifestyle modifications are our priority.
If a patient is not at goal and above targets then one will take FDA approved medications in addition to lower blood sugar, cholesterol and blood pressure.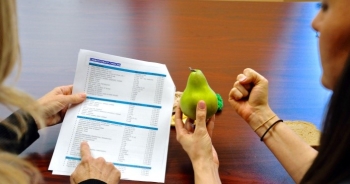 Here at Palm Beach Diabetes and Endocrine Specialists we have a team of registered dietitians, registered nurses and certified diabetes educators to help you achieve better blood sugars, lower cholesterol, reduce blood pressure and lose weight. Most insurance plans cover people with diabetes to receive four hours of nutrition and diabetes education each year!
Call 561-659-6336 ext 8012 to schedule your appointment today!
Want to learn how to prepare delicious meals for weight loss?
Then come to our Healthy Meal Planning Classes!
At 4 Convenient Locations!
West Palm Beach Location:
Temple Israel
1901 N. Flagler Drive
West Palm Beach FL, 33401
Tuesday February 13th 10am-12pm
Parking is located on Pine Street behind the Temple. Please buzz in to alert staff for diabetes refresher class. Classroom is located in the Program Room.
Boynton Beach Location:
Brookdale Living Facility 8220 Jog Rd.
Boynton Beach, FL 33472
Wednesday March 21st 10am-12pm
Jupiter Location:
Well tower Building 550 Heritage Drive, Suite 150
Jupiter, FL 33458
Wednesday February 14th 10am-12pm
Wellington Location:
Wellington Reserve Plaza
1041 State Road 7, Suite 1
Wellington, FL 33414
Thursday February 15th 5:30-7:30pm
Will provide Healthy Snacks!
**May bring one guest free of charge!
If interested attending this program please contact our scheduling department at (561) 659-6336 Extension 8001 today!
At Healthy Living with Diabetes we want to ensure that you are satisfied with all services received. We also would like your input on educational workshops that you would like us to offer, information you would like to read about in Healthy Living with Diabetes Monthly or feedback on any workshop that you may have attended. You can contact the director of education personally by email jcook@PBDES.COM or leave a message at (561) 659-6336 ext. 8012. We would love to hear from you!
Check us out on the web!
www.palmbeachdiabetes.com
www.facebook.com/pbdeseducation
www.twitter.com/WpbDiabetes