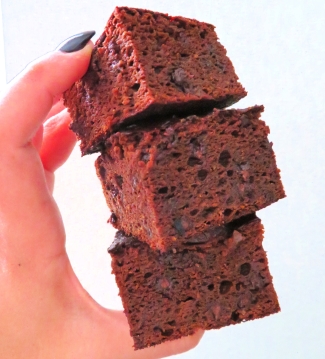 The healthy fats in avocados make a delicious, fudgy and moist brownie! And you won't even know these brownies are actually good for you with their yummy rich chocolate taste!
Avocado Brownies
Ingredients:
- 2 ripe avocados
- 1 scoop vanilla protein powder
- 1/3 cup melted coconut oil
- 1/2 cup almond flour
- 2 eggs
- 3/4 cup stevia dark chocolate chips
- 1/2 tsp baking powder
- 1/4 tsp baking soda
- 1/4 tsp sea salt
- 2 tbsp stevia or Splenda for baking
- 1 tsp vanilla extract
Directions:
Mix all dry ingredients and place in a bowl. Then Melt 1/2 cup of the chocolate chips and add to avocados, vanilla, stevia and eggs. Mix in a good processor and add to dry ingredients. Mix well and add rest of the chocolate chips. Bake in a 9x9 greased pan for 25min at 350 degrees Fahrenheit. Enjoy!